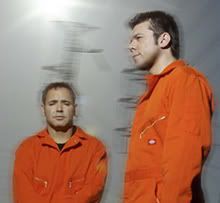 Photo Credit: M-Pulse



The Crystal Method

Despite its suggestive name, this electronic duo adds a level of maturity to the dance music scene, by giving their songs depth and not singing nonstop about all-night drug trips. Following a similar path as Prodigy and The Chemical Brothers, this duo displays their keen knowledge of music by exploring other styles, which produces songs that are much more than a blaring beat. There's something to be said for DJs that can provide their audience with a feeling of happiness, calmness, and anger, all within the course of a single set. In addition, The Crystal Method's music has been used in more movies than almost any other electronica artist.

Personnel: Ken Jordan, Scott Kirkland (samples, keyboards, guitar, bass)

Upcoming: Ultra Music Festival/Winter Music Conference March 28-29

Music Video for "Name of the Game"



Video byanilcp.